CA Vehicle Code 23224 VC
VC 23224 – Possession of Alcohol in a Vehicle by Someone Under 21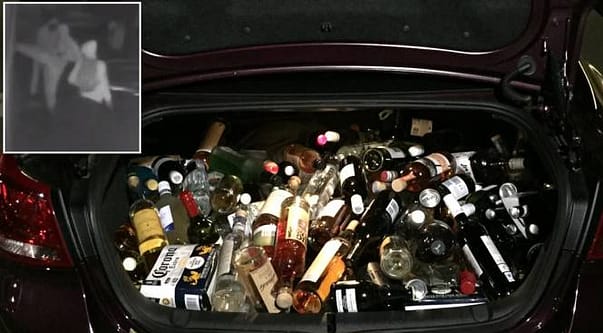 Possession of Alcohol in a Vehicle Under 21 – Table of Contents
Vehicle Code 23224: Possession of Alcohol in a Vehicle, Under 21
What is the definition of possessing alcohol in a vehicle by a person under the age of 21 under Vehicle Code 23224?
No person under 21 years of age will knowingly drive a vehicle possessing an alcoholic beverage, unless the person is accompanied by a parent, responsible adult, agent of the parent, legal guardian, or employer holding a liquor license that instructs the driver to transport liquor during business hours.
Does the driver need to own the vehicle for VC 23224 to apply?
No. All that is required is that the party in question is driving the vehicle. Or have the apparent ability to control the vehicle with the specific intent to drive or an indication to drive.
How is the term possession defined under VC 23224?
Possession of alcohol means under the active control of the driver. This means the alcohol can be on their person, within reach, or in the compartments of the vehicle.
How is the term vehicle defined under VC 23221?
A "vehicle" is a device by which any person or property may be propelled, moved, or drawn upon a highway, excepting a device moved exclusively by human power or used exclusively upon stationary rails or tracks.
Are there any circumstances where the accompaniment of sponsor adult, employer, or guardian does not qualify as a defense under Vehicle Code 23221 VC?
Yes. If the sponsor under negligible circumstances provides a vehicle to a driver under 21 years of age while he is under the influence of alcohol or drugs, it becomes a negligent issue. Another example is when a commercial business owner of alcohol gets the driver, who is under 21, to transport alcohol outside of normal business hours.
VC 23331 – Sentencing
What are the penalties involved in a violation of Vehicle Code 23224 VC?
A violation of Vehicle Code 23331 VC is a misdemeanor. A conviction results in confinement of up to 1 year in jail. With fines not exceeding $1000 dollars. As well as a driver's license suspension from the DMV.
What are examples involved concerning a violation of Vehicle Code 23224 VC?
Amber, a 16-year-old first-year student, works for ABC liquor. The store closed 30 minutes ago, but due to a deadline, the owner endorsed a note, stating his authorization for Amber to transport 6 boxes of Whiskey to a client. During the delivery, Amber is stopped by a Sheriff. After confirming that Amber's age, he reads the note and contacts the owner. Unfortunately, due to the hours of operation, the Sherrif informed the driver Amber should not be transporting the product at this time. Amber was arrested.
Dan's 21st birthday is tomorrow. He is currently 20 years of age. The time is 11:49 pm. Dan and his friend Teddy are on their way to his friend's party. Ted, the passenger is 30 years old but is drunk. Dan has 12 boxes of beer in the backseat of his vehicle. A CHP officer pulls Dan over due to talking on the phone while driving. The officer verifies Dan's age and notices the beer boxes. Although Ted has not broken any laws, he is too drunk to speak but states "Those are Dan's beers". Dan is arrested, and the car is impounded. Because of Ted's intoxication he cannot be qualified sponsor for Dan.
VC 23331 – Defending
Are there any defenses to a violation of Vehicle Code 23224 VC?
Lack of knowledge – The driver did not know that the containers, boxes, or packages contained alcohol. And could not decipher the contents due to packaging vagueness.
Duress – The Driver would not have possessed the alcohol but for threat of harm or fear of harm to the driver, friends, family or loved ones.
Sponsor – I have a sponsor.
Constructive Notice/ PC 1385.5 PC – I have a sponsor Note.
Need an Attorney?
If you are charged with possession alcohol as a driver under the age of 21 years of age under Vehicle Code 23224 VC, call The Esfandi Law Group. Contact Los Angeles criminal defense attorney Seppi Esfandi, principal attorney of The Esfandi Law Group.
Our criminal defense team will be sure to fight until the end to reduce or drop your charges completely.
Call Us for a FREE Case Review: 310-274-6529
How to Win Your Case
We cannot stress enough that you read, understand and follow these 10 basic rules if you are criminally charged or under investigation: