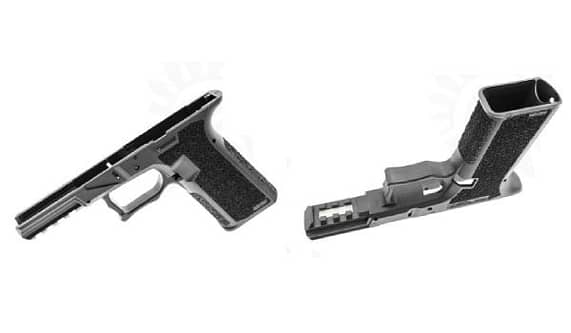 The Polymer80
So-called "ghost guns" are becoming a weapon of choice among criminals in Los Angeles. Now, Los Angeles City Attorney Mike Feuer is stepping in and filing a lawsuit on behalf of Los Angeles against Nevada-based ghost gun part manufacturer Polymer80.
Polymer80 is one of the country's largest sellers of ghost gun kits and parts. Polymer80 makes unfinished lower receivers or frames that can be purchased online or from a dealer as kits and assembled at home. The end result is a weapon with no serial number, and that won't require a background check to buy or put together. These ghost gun kits are frequently sold online, which easily allows criminals and mentally ill people to access and own guns.
Fuer cites the surge in deadly gun violence in Los Angeles and the alarming increase in the number of untraceable guns being recovered by police as significant reasons for the lawsuit.
Fuer said, "Untraceable ghost guns are the emerging weapon of choice for criminals, here in L.A. and around the country. We're fighting to stem this tide at a time when gun violence is devastating neighborhoods in our City," said Feuer. "Nobody who could buy a serialized gun and pass a background check would ever need a ghost gun. Yet we allege Polymer80 has made it easy for anyone, including felons, to buy and build weapons that pose a major public safety threat."
Fuer is partnering with Everytown Law, the largest team of litigators in the U.S. dedicated to advancing gun safety in the courts, civil, and criminal justice systems in the lawsuit. Everytown has previously referred to ghost guns as the fastest-growing gun safety problem the nation faces.
LAPD said they had recovered more than 700 ghost guns containing parts from Polymer80— 300 of which were in the south L.A. area. Statistics show that in L.A., about 40% of guns recovered by police don't have serial numbers.
The lawsuit argues that Polymer80 is violating state and federal gun laws as well as engaging in false advertising by telling customers their business model is legal.
What Are "Ghost Guns?"
Ghost guns are fully functional, DIY guns that are made from kits that can be purchased online.
Ghost guns are made by an individual instead of a federally licensed importer or manufacturer.
Ghost guns pose a serious safety threat to the United States.
Guns without serial numbers are called "ghost guns" because they are untraceable.
The Market for Ghost Guns
According to Fuer's complaint, Polymer 80, Inc. has captured a significant percentage of the ghost gun kit and part market. According to the AFT, law enforcement recovered about 10,000 ghost guns in 2020 alone; of those, about 2,700 were recovered in California and nearly 90% of the 1,500 ghost guns in 2019 ATF's database were made from Polymer80 parts.
Records also show that Polymer80 shipped about 9,400 times to California customers between January 2019 and October 2020. Included in those figures are at least 200 "buy build shoot" kits that contain all of the required components to build a fully functional, untraceable gun.
Are ghost guns commonly used in violent crime?
Yes, ghost guns are being used at record numbers nationwide, including right here in California:
In November 2019, a 16 year old shot five of his Saugus High School classmates using a homemade handgun. Two of the victims and the shooter died.
In 2017, a Northern California man prohibited from possessing firearms ordered kits to construct AR-15-style rifles. He initiated a series of shootings that started with fatally shooting his wife at home on November 13. That fatal shooting was followed by a deadly rampage during which he shot at many people across many locations, including an elementary school. Five people died, and dozens more were hurt.
A shooter opened fire in Santa Monica in 2013, shooting 100 rounds and killing five people at a community college. The shooter used a homemade AR-15 rifle after allegedly previously attempting to purchase a firearm through an authorized gun dealer but failed the background check.
In January 2021, the director of the ATF Los Angeles Field Division reported that 41% of the division's cases involve ghost guns.
California Laws About Ghost Guns
California enacted a law in 2016 that placed new requirements on anybody who manufactures or assembles or otherwise possesses firearms without serial numbers without a valid firearm manufacturer's license.
Senate Bill 746, amending Penal Code sections 29180 through 29184 went into effect in 2018 and requires that:
Before the assembly or manufacturing of a firearm, a person is required to apply to the California Department of Justice for a unique serial number or identification mark unique to the firearm. In order to obtain a unique serial number you must have:

A firearm safety certificate
Passed the firearms eligibility background check to verify you are eligible to possess firearms federally and under state law
Presented proof of age and identity to show you are 21 or older
A description of the firearm you intend to manufacture or assemble

Once you receive the serial number from the DOJ, you must engrave or permanently affix it to your firearm within 10 days of making the firearm.
For any other questions about ghost guns or gun laws in Los Angeles, contact our team of skilled Los Angeles Gun Crime Attorneys today.
Need a Criminal Defense Attorney? CALL NOW: 310-274-6529
Seppi Esfandi is an Expert Criminal Defense Attorney who has over 20 years of practice defending a variety of criminal cases.