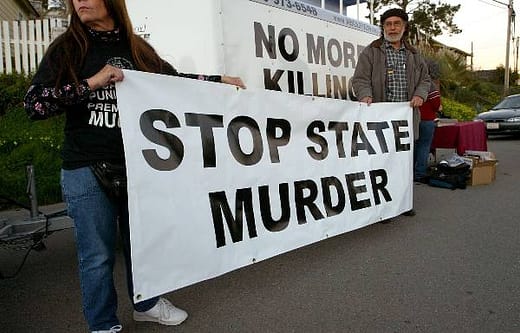 Senate Bill 300 – Reforming the Penalties for Murder
Senate Bill 300 was originally introduced by Senator Dave Cortese.
Proposed in February 2021, it's slated to go into effect this year, and it comes with some key changes.
California SB 300, aka the "Sentencing Reform Act of 2021", will reform the "felony murder special circumstance" law to ensure that the death penalty and life without the possibility of parole cannot be imposed on those who did not actually commit the act of murder, nor intend that a person die while they committed a crime.
What Are the Goals of the SB-300?
The bill's goals are to limit the death punishment imposed by the penal code.
Also, it aims to limit death by imprisonment (or life imprisonment without possibility of parole).
Death punishment is sentenced for first-degree murder, and especially for major participants in the felony. Life imprisonment is the sentence received by minor participants in murders.
Why is Reform Necessary?
The best way to put it is, the current penal code on first-degree murder isn't equitable.
That is, participants in murders receive similar harsh punishments, regardless of their intention and degree of involvement.
For example, a major participant (or actual killer) might receive the same punishment as a partner who wasn't involved in the violent act.
This even applies to those participating minimally in the crime, such as giving out information that may have directed the killer to their goal.
As is obvious, a one-size fits all punishment isn't fair to those individuals.
Another reason is constitutionality. The power to charge someone with life or death (and removing possibility of parole) is unconstitutional. It's especially unfair if the individual hasn't demonstrated clear killing intent.
The Consequences
Many individuals may end up being sentenced to death (or life imprisonment) without parole, even if they were wrongfully convicted.
So they may have not been involved intentionally in the murder. They may not have performed the act itself, but they still receive the same punishment.
With the new SB-300, individuals are punished based on their level of culpability.
Limiting "Special Circumstance" Convictions
Special circumstance is a term related to homicide law. It refers to aspects of a crime that should be proved thoroughly in the trial's guilt phase.
Special circumstance first-degree convictions are what eventually result in death penalties.
The new bill aims to limit the use of that conviction. From now on, it'll apply only to those who had clear intention to kill.
More on Intention
Defining killing intent is a key component of the new reforms.
Also, besides the special circumstance changes, punishment without possibility of parole also comes with new reforms.
Only intentional (or personal) killing leads to jail or death without parole. Otherwise, the individual is allowed possibility of parole.
What Makes a Convict Liable to Life Imprisonment or Death?
The new bill defines the criteria that leads to either of those punishments (as amendments to Section 190.2 of Penal Code).
They include any of the following:
Intentional murder with financial incentive.
Intentional murder to avoid arrest or to escape from custody.
Intentional murder of a law officer (state or federal) while on duty. The defendant should've been aware of the officer's status, and that they were on duty at the time. The murder should've been intentionally done in retaliation.
Intentional murder of a firefighter on duty. The defendant should've been aware that the victim was engaged in their duties at that time.
Intentional murder of a crime witness with incentive to suppress a testimony.
Intentional murder of a prosecutor, former and assistant prosecutors, and federal prosecutors. Done with retaliatory intentions.
Intentional murder of judge or former judges. Done with retaliatory intentions.
Intentional murder of an official in state or federal government of any state. Done to prevent said individual from performing their duties.
They also include:
Murders committed using an explosive device. Also the defendant should've been aware that the device would lead to risk of harm to multiple individuals.
Previous conviction of a first/second degree murder. If the defendant committed an offense in another state that counts as first/second degree murder in California, then they'll still be counted.
Committing an atrocious murder. Those are defined as crimes that lack conscience, where the victim is tortured needlessly, or killed for pleasure.
Identity murders. They include killing someone due to their nationality, religion, color, or race.
Is Getting a Reduced Sentence Possible?
Yes, but only if the individual wasn't the actual killer, and if they didn't act with the intention to kill. In that case, they can file a petition to vacate the special circumstance evidence.
The petition has to be filed in the court where the original sentence was delivered. It has to be filed with the court's presiding judge, and preferably through the same lawyer who represented you previously.
The petition then gets reviewed, where the presiding judge assigns that role to:
The judge who originally sentenced the individual
Another judge specializing in reviewing petitions
What Should Your Petition Include?
First, the petitioner needs a declaration that they're qualified for relief from their sentence (based on the requirements previously mentioned).
The petition should include the individual's year of conviction and superior court case number. Also, the individual should define if they'd like a counsel to represent them.
It's best if all the previous documents are included. If not, there's a high chance that the court may deny the petition.
After the petition is received, the prosecutor will issue their response within 60 days. Following that, the petitioner needs to issue their reply within 30 days. They'll need to provide sufficient evidence that they're entitled to relief in that response.
With that, the court will issue a show cause order. 60 days following that, a hearing is held to define if the petitioner is entitled to relief.
The hearing will decide if special circumstance evidence can be vacated. This'll give the individual a chance for a retrial using the remaining evidence, and the possibility of a reduced sentence.
Need Legal Advice?
Want to increase your odds of getting a reduced sentence? Need a lawyer to represent you in court (or for petitioning)?
If so, we can help you out. Simply contact us, and get started! Contact Esfandi Law Group for a free consultation, and get started!
Need a Criminal Defense Attorney? CALL NOW: 310-274-6529
Seppi Esfandi is an Expert Criminal Defense Attorney who has over 20 years of practice defending a variety of criminal cases.