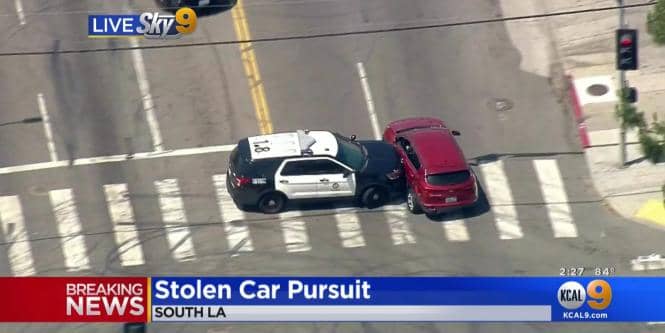 California Laws Regarding High-Speed Chases
Is the Defendant in a Police Chase Liable in the Event of an Accident?
Except for the fact that they are all inherently hazardous, police chases are unpredictable events. Both the police vehicles and the pursued vehicle may be going at high speeds in many police car chases. In addition, there is a second hazard. Stop signs and red lights are frequently ignored by suspects who are being chased by the police, and they regularly engage in unlawful traffic maneuvers such as driving through parking lots or lawns. Accidents resulting from reckless driving may result in significant injuries or even the death of individuals involved.
Victims of high-speed police chases are entitled to compensation under California law if the accident was caused by someone else. The Los Angeles police department elected to follow the suspect. Still, the individual being sought chose to elude arrest without regard to whether their actions placed other drivers at risk. It is not just risky but irresponsible to drive at excessive speeds on a crowded roadway. As required under California law, that motorist was not operating their vehicle in a manner that a reasonable person would have expected. When vehicles speed through city streets considerably beyond the legal limit while failing to stop at a traffic light, they may be called careless. An apparent disrespect for driving regulations in civil law qualifies as substantial evidence of carelessness. Your case against the runaway motorist will be sound, provided that you can demonstrate that the accident was the cause of your injuries.
In short, yes, the defendant is responsible for damage to property.
However, many times they are uninsured.
Are the Police Liable in the Event of an Accident?
If the police follow a suspect who breaches their duty of care to other road users, including pedestrians and cyclists, they run the risk of incurring culpability for their actions. The suspect may be held accountable for damages produced by their acts if they were careless and didn't exercise the level of care that should have been expected in the given circumstances. Because the suspect exceeded their duty of care by falling below an appropriate standard of care, they are liable for the resulting injuries to someone else and for any losses he or she may have caused. The negligence per se concept holds that a person is accountable for their harm even if they did not intend to cause them, even if they violated legislation, rule, or ordinance intended to protect others.
In short, possibly, the police may be responsible for damage to property.
Is the City, County, or State Government to Blame?
Limits on governmental immunity for police personnel exist in California. California Vehicle Code Section 17004.7 protects public agencies that employ peace officers from civil liability for damages caused by the death or injury of anyone who is struck by a vehicle driven by a suspect whom the public agency is currently, or has recently, been, pursuing with the assistance of a peace officer.
Public safety, the danger to the public and officers, the nature of the crime, safer options, public protection, population density, weather conditions, and road/traffic conditions must all be considered before a chase, or a pursuit may be terminated. There are times when police must abandon a chase because it poses a more significant threat to officers and public members than it does to the community. Here's when a skilled personal injury attorney comes in. Even though they can be sued, victims may only recover up to $200,000 in damages per claim or $300,000 per lawsuit under this provision, even if they are not immune from litigation (when multiple injured parties). Section 1983 is a federal provision allowing persons with civil rights infringed by government entities to sue for damages. To be held accountable for a crime under this provision, you must have done more than be careless. A victim must demonstrate that the police pursued them recklessly or in a manner that "shocks the conscience."
In addition to police personnel and criminals, government employees may also be held accountable in the case of a police pursuit. The protocols and training of police officers are the responsibility of the government employers in charge of such services. Consequently, government employers may be held partly accountable for events during a police pursuit if they do not teach police employees adequate safety procedures.
Possibly, but this would be a tough case, and is very rare nowadays.
What about Vigilantism?
If you make a choice (like engaging in vigilantism) you will do that at your own risk. There is no law that law enforcement or the city will pay for the damage incurred during such acts. If the perpetrator causes damage to your property and has insurance, that insurance will pay, otherwise, it is up to your own insurance company.
In short, you are responsible for damage incurred if you engage in vigilantism.
Crowdsourcing to Recoup Funds
An interesting story recently highlighted the power of crowdfunding through "Gofundme". Victims Andres and Merwin Benitez were able to accumulate the funds to replace their work truck after a high-speed chase that was broadcasted on KTLA. If all else fails, crowdfunding is a good alternative to recoup your losses.
Need an Attorney? CALL NOW: 310-274-6529
Seppi Esfandi is an Expert Attorney who has over 21 years of practice defending a variety of cases.