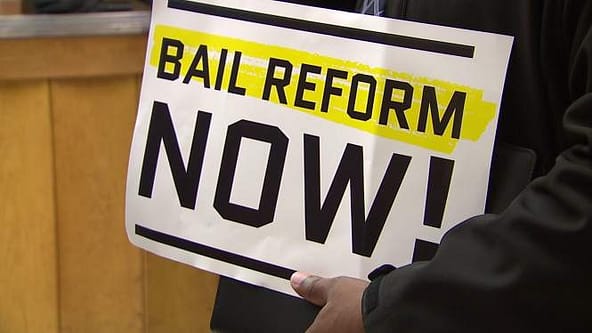 In Jail with No Bail? Not Anymore
According to the American Bar Association, about half a million people are currently in jail because they can't afford to pay for their bail while they wait for their cases to be heard. The top lawmakers in California are hoping to put a stop to that staggering statistic.
California's Supreme Court judges have voted to eliminate cash bail for defendants who can't afford to pay it. The judges wrote that "conditioning freedom solely on whether an arrestee can afford bail is unconstitutional."
Judges can require electronic monitoring and regular check-ins, order the defendant to stay in a shelter, and submit to drug and alcohol testing and treatment.
"Too Dangerous" To Be Released
There are times when the release of a suspect may be deemed too dangerous and a threat to the community— in those cases, the suspect will remain incarcerated during their court proceedings. To deem a suspect too dangerous to release, the court must find and present clear and convincing evidence that no condition short of detention will suffice.
The Supreme Court decision comes after California voters rejected a state law in November that would have entirely ended the Golden State's cash bail system.
What is Bail?
Bail is any money or property that a defendant can forfeit if they fail to appear for trial. If a suspect can't afford bail, judges will consider alternatives, including releasing them on their own recognizance (ROR), with any required restrictions such as ankle monitors.
Previously, California judges set bail based on a defendant's criminal history and pending charges. Critics asserted that method allowed wealthy suspects to go home and get ready for trial while lower-income suspects had to remain locked up. They said this system encouraged some innocent people to plead guilty just to get out of jail.
Bail in California is notoriously high— the Supreme Court's bail ruling comes after the case of 66-year-old Kenneth Humphrey. He was jailed for more than eight months because he could not afford his $350,000 bail on charges of stealing five dollars and a bottle of cologne from one of his neighbors in the senior housing complex he was living in.
Humphrey released a statement about the high court's ruling, "I am pleased other people will have the same opportunities I had to change their lives, and they will not have to wait in jail for years because they are too poor to pay bail."
Cash Bail is Not Banned
The California Supreme Court's ruling does not outright ban cash bail. Instead, it requires judges to consider factors including the severity of charges and criminal history and then set a bail amount the defendant can afford.
Post Your Bail and Get On With Your Life
This new law will benefit low-income defendants and also defendants who may not have any substantial assets, like a house, to offer up for bail.
Now, when somebody is arrested in California, they will be able to post a bail they can afford and can get back to their lives without being locked away from their family and livelihood for prolonged periods of time. This allows them to return to their routine, home to their families, and to their jobs that their families depend on.
It's also highly advisable for defendants to hire a criminal defense attorney who can start working with you immediately to ensure an appropriate bail is secured. Then, upon your release, your attorney will be by your side every step of the way through the court process, helping you prepare for trial and guaranteeing much higher chances of a favorable outcome for your case.
Contact a California Criminal Defense Attorney
If you or a loved one have recently been arrested in Southern California and have a pending criminal or DUI case, it's vital to your freedom that you find a quality Los Angeles Criminal Defense Attorney as soon as possible to get your case dismissed or drastically reduced. Contact Esfandi Law Group for a free consultation today.
Need a Criminal Defense Attorney? CALL NOW: 310-274-6529
Seppi Esfandi is an Expert Criminal Defense Attorney who has over 20 years of practice defending a variety of criminal cases.