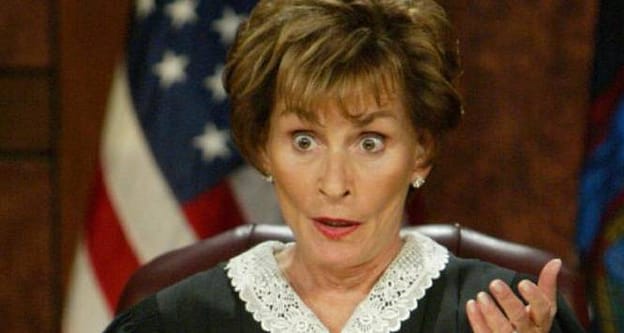 Don't Try this at Court
What's one thing you don't want to do during a court appearance?
ANSWER: Piss off the judge.
As obvious as that may seem, we see it happen far too often. That's why we've compiled this list of how to piss off the judge in court, so you can be aware of what annoys judges and avoid doing it.
Having an Outburst
Judges want their courtrooms to be professional places where justice can be served and laws are upheld. If you have an outburst of any kind, the judge is going to get agitated and/or angry. It's critical to keep your composure in the courtroom — no matter what aggravating factors are at play. Instead of yelling out to the judge or opposing counsel, tell your attorney what's making you upset, and they will address it in a productive, appropriate way.
Dressing Inappropriately
Court proceedings are formal and should be treated as such. Showing up to your court appearance in your work uniform or workout clothes is a surefire way to have the judge seeing red. You must respect the judge and their courtroom by dressing appropriately. 
Showing Up Late/Missing Your Hearing
There's no faster way to piss off a judge than by showing up late to your hearing and causing the court to have to juggle rescheduling your appearance with the hundreds of other cases they are working through. You should aim to get to the courtroom at least 30 minutes before your hearing begins. The docket can move fast with cases being continued and people not showing up on time, and the last thing you want is for your name to be called and you're not there. 
Swear at the Judge
It's important to respect the judge and their courtroom — and the verdict and/or sentencing they come to. If you swear at the judge, you're going to upset them tremendously, as seen in this video, and risk being in contempt of court — increasing your charges and punishment/fines. For example, a Cleveland judge sentenced a defendant to six more years after he yelled at her during the sentencing.
Fake a Psychological Breakdown
Most people have heard of the defense strategy of pleading insanity in order to escape criminal charges, harsh sentences, and fines.
But, pretending to be crazy will surely upset the judge, as seen in these outbursts:
Do Illegal Activities in the Courtroom
You would think this one would go without saying, but after a Tennessee man charged with possession of marijuana lit a joint during his court appearance, you may just have to see it to believe it. You should not do anything illegal in the courtroom or bring anything illegal with you into the courthouse — for example, guns and other weapons and marijuana and other drugs and banned substances. 
Show Up Without a Lawyer
Just because you have the option to defend yourself and you think that your high school Criminal Justice class will suffice for you to build a legal defense doesn't mean you should! If you show up to court without an attorney, the judge is going to think you are not taking your case seriously and will frustrate the judge immensely because they will believe you are wasting their time.
Be Polite, Hire the Best
Seppi Esfandi has more than two decades of courtroom experience, and working with the Esfandi Law Group will ensure you don't do something that makes the judge mad and jeopardizes your case. From drug offenses to DUI and everything in between, the expert criminal defense attorneys at Esfandi Law Group fight for justice for our clients every single day. Contact us today to learn more.
Need a Criminal Defense Attorney? CALL NOW: 310-274-6529
Seppi Esfandi is an Expert Criminal Defense Attorney who has over 20 years of practice defending a variety of criminal cases.