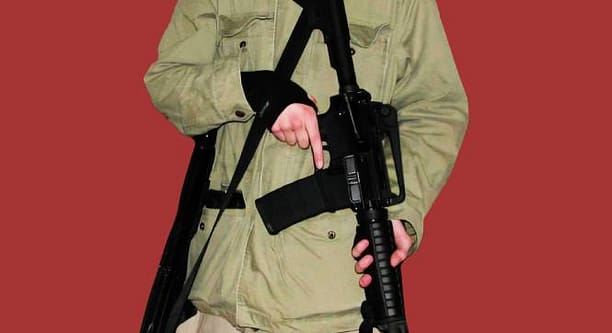 It's a Total Disregard for Life
While there are many categories of murder outlined in criminal law, one you might not be familiar with is "depraved heart murder." What does depraved heart murder consist of?
Killing an individual in a way that shows a heartless disrespect for the value of human life.
For instance, if a person discharges a firearm into a room full of people with the aim of killing others, the offender might be charged with depraved heart murder.
In California, most courts avoid using the term "depraved heart" and instead refer to this offense as "implied malice murder." To be more specific, implied malice happens when an unintended death is caused by excessively irresponsible action.
Two identifying components must be present for a depraved heart murder to be recognized:
illegal conduct was undertaken.
the act was committed by someone who was aware of the highly dangerous implications of their behavior, yet decided to continue acting with willful contempt for human life.
If someone you know was involved in a situation like this, it's important to contact a Los Angeles criminal attorney right away.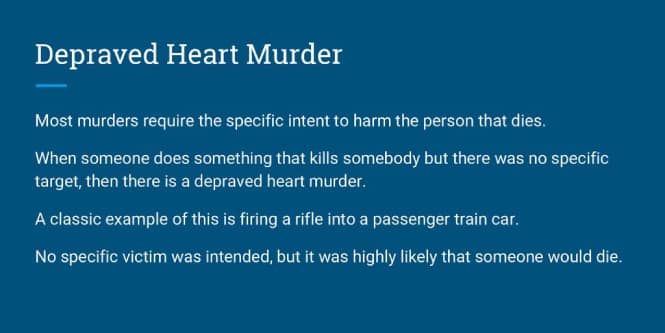 Examples of Cases Involving Depraved Heart Murder
Here, we'll examine a few examples of cases and look at them more closely to better grasp what depraved heart murder is.
Scenario 1: Domestic Argument
Suppose that a couple is having a domestic disagreement at their apartment located on the lower level of the building. When the argument becomes intense, one of the sides pulls out a weapon. They point the rifle at the ceiling and shoot in order to intimidate and threaten the person with whom they are talking.
The issue here is that there could be another tenant standing on the floor of the unit above them. In this case, there might not be any genuine intent to murder or hurt anybody, but the defendants should have been well aware that their conduct was irresponsible and that it could threaten human life. Because they chose to act in a reckless way, they may be charged with a depraved heart crime.
Scenario 2: Freddie Gray
The killing of inmate Freddie Gray by a Baltimore police officer is one of the most well-known depraved heart murder instances in recent history. Mr. Gray was arrested and handcuffed but not fastened securely inside the police van used for transport.
The driver was accused of driving the vehicle carelessly and without concern for the passenger's welfare. Mr. Gray was injured and voiced his need for medical assistance, which was reportedly disregarded.
Freddie died a few days after his imprisonment, possibly as a result of an injury inflicted during transportation. Six Baltimore police were charged with second-degree depraved-heart murder, as well as reckless endangerment, misconduct in the office, and manslaughter.
The police officers involved all entered "not guilty" pleas. Their lawyers maintained that they had operated in a reasonable and professional manner and that the prosecution lacked evidence to back up the allegations.
All charges against the three Baltimore law enforcement officers involved in the arrest and death of Freddie Gray were dropped. This ended one of the city's most high-profile criminal cases without any convictions. Before this case, many individuals had never heard of depraved heart crimes.
Potential Sentencing for a Depraved Heart Murder Charge
Second-degree murder in California, including depraved heart crimes, carries a sentence of 15 years to life in prison. When you're facing charges for depraved heart murder or other serious crimes, It's essential to hire a Los Angeles criminal attorney you can trust.
When a crime involves discharging a firearm from a motor vehicle, the minimum sentence is doubled to 20 years. Prior records may also be considered by the courts when assessing punishment and parole eligibility.
Second-degree murder convictions are severe, and they have the potential to ruin a person's life permanently.
If you're accused of depraved heart murder, you might be found innocent in the following situations:
The act was carried out in self-defense or to protect another person
You had a sufficient and appropriate reason for your actions
Medical professionals establish insanity or a lack of mental competence that contributed to your actions
There may be more instances in which you could be declared not guilty. For a full defense, it's important to schedule a consultation with a knowledgeable criminal lawyer.
Should You Hire a Los Angeles Criminal Lawyer?
If you or someone you know has been accused of a depraved heart crime, it's in your best interest to work with a criminal defense attorney as soon as possible.
Whether you were hurt by someone committing a depraved heart crime or you're the one being accused, a legal professional can help you to understand your rights, recognize the consequences of particular decisions in your case, and represent you in the courtroom, if necessary.
Need a Criminal Defense Attorney? CALL NOW: 310-274-6529
Seppi Esfandi is an Expert Criminal Defense Attorney who has over 20 years of practice defending a variety of criminal cases.