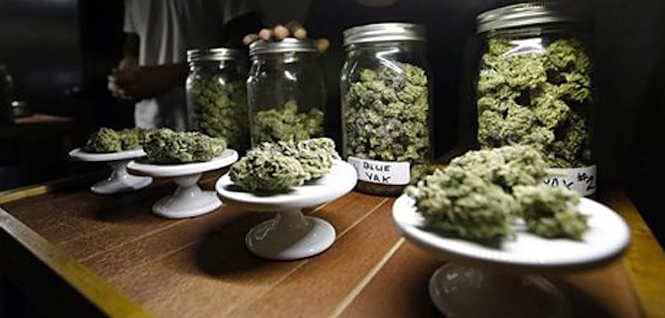 Recreational and Medical Marijuana Laws
Will Feds Crackdown on Recreational Marijuana? As of 2017, eight states and the District of Columbia have legalized recreational use of cannabis among adults, including Colorado, Washington, Oregon, Alaska, California, Maine, Massachusetts, and Nevada. In terms of demographics, this means one in five American adults can legally ingest cannabis as they please under state law. Furthermore, over half of the nation's states have made medical marijuana legal, despite federal laws prohibiting it's sale. The entire marijuana industry is estimated to be worth well over $6 billion and is expected to hit $50 billion by 2026, according to Cowen & Co. [1]
White House warns of "Greater Enforcement"
White House press secretary Sean Spicer said "I do believe you will see greater enforcement" of federal laws against recreational marijuana use, a move that could undermine the growing number of state jurisdictions moving to legalize the drug.
It should be clarified that the White House only seems to be interested in cracking down on recreational usage, NOT the use of cannabis for medical reasons. "The president understands the pain and suffering that many people go through who are facing, especially terminal diseases, and the comfort that some of these drugs, including medical marijuana, can bring to them," Spicer told reporters. In his exact words, Spicer said that allowing states to sell marijuana for recreational purposes "is something the Department of Justice, I think, will be further looking into."
With Jeff Sessions as the Attorney General, the battle for the usage of marijuana recreationally in the United States will almost certainly be an uphill battle at the very least. [2]
The States respond to the White House
Washington
Bob Ferguson, attorney general in Washington state, which joined Colorado in 2012 as the first states to legalize recreational use of the drug, said he requested a meeting last week with Attorney General Jeff Sessions about his approach to legal, regulated marijuana. "We will resist any efforts to thwart the will of the voters in Washington," Ferguson said Thursday.
California
California elected officials and cannabis industry representatives said they were preparing for a potential showdown in the courts with Congress to protect the legalization measure approved by state voters in November. "Until we see any sort of formal plan from the federal government, it's full speed ahead for us," said Alex Traverso, a spokesman for the California Bureau of Cannabis Regulation.
Conclusion of Will Feds Crackdown on Recreational Marijuana?
Research has found that states maintaining a government-operated monopoly for the recreational drug alcohol kept prices higher, reduced youth access, and reduced overall levels of use — which ultimately all benefit public health.
Additionally, the billions of dollars in revenue generated by the industry is something that cannot be easily thwarted without the states putting up a fight. Lastly, top drug policy experts outlined several alternatives that could sidestep federal regulation of recreational use, including allowing possession and growing but not sales, granting private distribution within small "clubs" for instance, or even having the state government operate the supply chain and sell pot directly.
Regardless of the threats at the federal level, it seems recreational marijuana usage will be quite difficult to stamp out once the states legalize it.
Seppi Esfandi is an Expert in Criminal Law who has over 16 years of practice defending a variety of criminal cases.
We Want to Help
If you or a loved one is being charged with any drug related crime, we invite you to contact us immediately for a free case review. Schedule an appointment to meet with us in person, or feel free to submit an evaluation online and we will get in contact with you ASAP. We can provide a free consultation in our office, or by phone. Our experienced and assiduous attorneys will be sure to fight until the end to reduce or drop your charges completely.
Call Us for a FREE Case Review: 310-274-6529
References:
[1] https://www.bloomberg.com/news/articles/2017-01-12/cowen-co-races-to-be-6-billion-pot-industry-s-financial-guru
[2] https://www.fool.com/investing/2017/03/12/jeff-sessions-just-spoke-candidly-about-marijuana.aspx
[3] https://hightimes.com/news/states-respond-to-trumps-impending-war-on-legal-weed/
[4] https://economistsview.typepad.com/economistsview/unemployment/