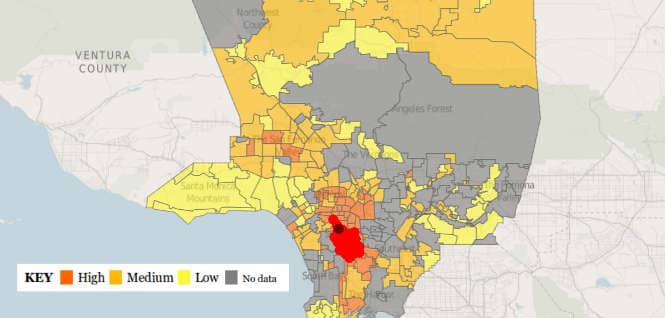 Above, the 15 most dangerous LA areas are in red.
All of the most violent neighborhoods in LA County are just to the east of Inglewood. Inglewood itself however, is not represented due to lack of crime data provided by the police. It is safe to say that parts of Inglewood are also not safe, with safer parts scattered about.
As you can see in the list below, after the first 20, the rate of violent crime drops to more moderate levels.
The Most Dangerous Areas of Los Angeles
South Los Angeles has historically been the most dangerous area of LA
However, Skid Row and DTLA is rapidly becoming the most dangerous area of LA
Below is the list top 50 areas with the most violent crimes (per capita) in Los Angeles County. The total number of crimes within this time period are also included. The denser the population, the higher the 'Total'.
Click on each neighborhood below to see real-time daily crime statistics:
(Data via LA Times Data Desk)
Types of Violent & Property Crimes
There are essentially 2 main types of felony crimes, and specific crimes within those two that are by far the most common crimes committed in the neighborhoods listed above. More serious crimes such as Homicide and Rape are significantly less common.
Violent Crimes: Mostly Robbery, Assault and Battery.
Property Crimes: Mostly Burglary, Grand Theft.
Conclusion of Most Dangerous Areas in Los Angeles
In 2016, 290 people were killed in the city of Los Angeles. From 2015, robberies were up by 13%, and aggravated assaults were up by 10%. Overall, violent crime was up by 10% over 2015, and 38% over 2014. Despite this recent increase in violence, if you compare the numbers to a decade ago, violent crime is down by about 45%.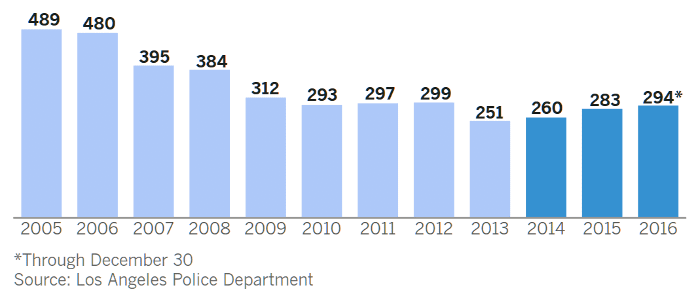 References:
[1] https://www.crimemapping.com/map/ca/losangeles
Seppi Esfandi is an Expert in Criminal Law who has over 20 years of practice defending a variety of criminal cases.